There's no question it's the most important position in all of sports. Conference championships, playoff berths, and national titles are all dependent upon the guy that lines up under center.
There will be six quarterbacks in this year's NFL draft with a chance of going in the first round. That comes a year after three NFL starters were chosen in the first round of the 2019 draft.
Now, it's on to the 2021 season and a new set of signal-callers. None are household names just yet, but by the time the new season hits its midpoint more than a few of these guys will be widely known.
Here are the nation's top 10 quarterbacks heading into the 2021 college football season.
Here are the nation's top 10 quarterbacks heading into the 2021 college football season.
10. PHIL JURKOVEC, BOSTON COLLEGE
In Year 1 after transferring from Notre Dame, Jurkovec threw for 2,558 yards and 17 touchdowns giving the Eagles a chance in the ACC. With a year of experience in offensive coordinator Frank Cignetti Jr.'s offense, Jurkovec looks to shine in 2021. He's got all the physical tools – 6-5, 225, strong-arm – to become an NFL quarterback.
9. DILLON GABRIEL, UCF
If you don't know Gabriel, you will in 2021. Thrust into the UCF lineup as a true freshman, Gabriel has thrown for 7,223 yards and 61 touchdowns in two seasons of play. If the Knights offense wasn't high-flying enough, now Gabriel will have guru Gus Malzahn calling plays. Watch Gabriel get into the Heisman discussion in 2021 if he can lead UCF to a perfect season.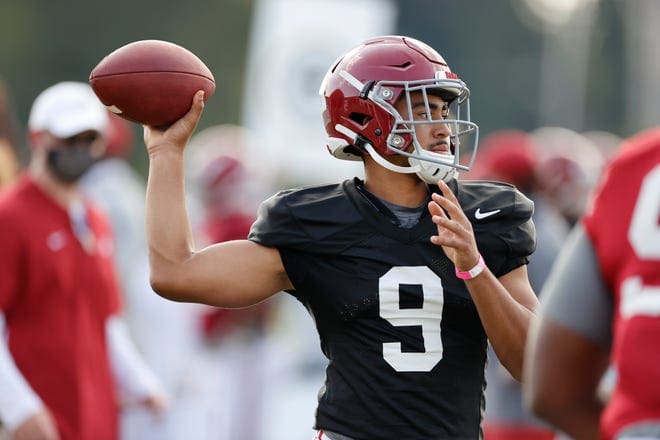 8. BRYCE YOUNG, ALABAMA
It's not often you have a first-time starter among the top ten quarterbacks in the country. But, then again, it's not very often you have a prospect like Young. He played a limited role last year behind Mac Jones, but Young has all the tools. That's why he was a five-star recruit. He'll play for new OC Bill O'Brien who has had success developing quarterbacks through the years.
7. KEDON SLOVIS, USC
Slovis took over for another quarterback on this list (J.T. Daniels) at USC and has not looked back. The 2019 Pac-12 Freshman Offensive Player of the Year led the conference in passing last season throwing for 1,921 yards and 17 touchdowns in just six games. Slovis excels when his back is against the wall, which is what the Trojans will need to capture a conference title in 2021.
6. JAYDEN DANIELS, ARIZONA STATE
Daniels doesn't have prototypical NFL size, but what he does have is a cannon for a right arm. He makes up for his lack of size with athletic ability and the arm. In 16 career games for the Sun Devils, Daniels has 3,644 yards passing, 22 touchdowns, and 578 yards on the ground. He only played four games last year, but is an outstanding talent.
5. D.J. UIAGALELEI, CLEMSON
For anyone thinking quarterback play would drop off at Clemson after Trevor Lawrence, it will not. Uiagalelei is big at 6-4 and 250 pounds and equipped with a laser for a right arm. He started two games last season as a true freshman in place of Lawrence. With the experience under his belt, look for the Clemson quarterback to break out in his sophomore season.
4. SPENCER RATTLER, OKLAHOMA
Rattler looked rattled in the Sooners two losses early in the season last year. After that, the Oklahoma quarterback went off throwing for 3,112 yards and 29 touchdowns in leading the Sooners to yet another Big 12 title. Rattler has an uncanny ability to make plays at any time from anywhere on the field.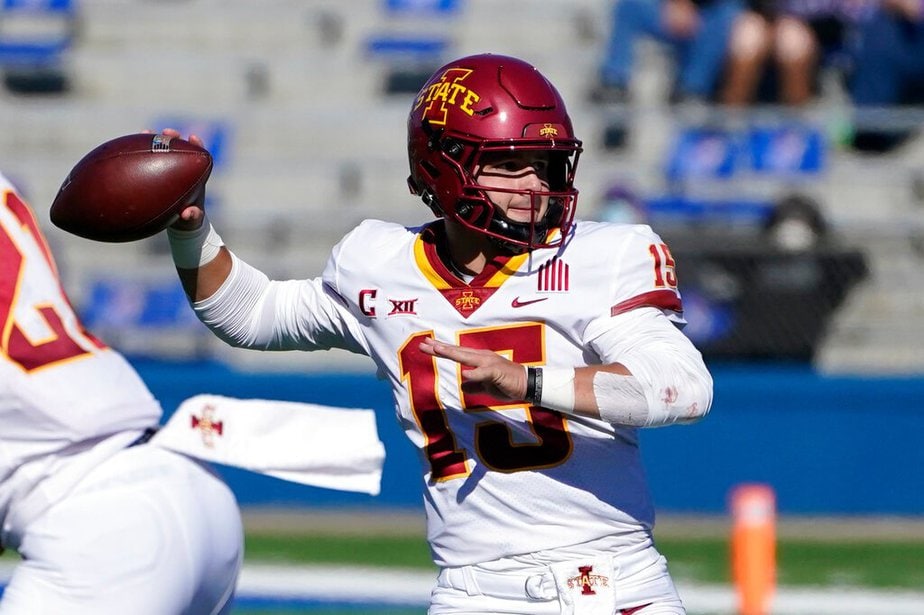 3. BROCK PURDY, IOWA STATE
Purdy will battle Rattler and the Sooners for the Big 12 again in 2021. The 6-5 quarterback is a three-year starter who has 8,982 career passing yards in 35 games at Iowa State. He led the Cyclones to the conference championship game last year. With his ability, he could propel Iowa State to its first Big 12 title in school history.
2. J.T. DANIELS, GEORGIA
The reason why Georgia has a shot at a national championship in 2021 is Daniels. The former USC quarterback found a home with the Bulldogs taking over the starting job last season and leading Georgia to an 8-2 finish. He is much more athletic than Jake Fromm ever was and he throws an effortless deep ball.
1. SAM HOWELL, NORTH CAROLINA
Howell is already projected to be the No. 1 pick in the 2022 NFL draft. He is everything you would want in a quarterback and then some. Howell is a gunslinger a la Brett Favre and shows it with a number of fourth-quarter comebacks. In two years as the Tar Heels starter, Howell has completed 496-of-770 passes for 7,227 yards and 68 touchdowns.