If you have a goal in life, what measures and sacrifices will you endure to achieve it? How far will you go? Will you take the road less traveled that you know is right for you? Are you mentally strong enough to overcome adversity, obstacles, doubters, and people who don't understand the path you decided to take?
As sports fans, we see on TV and read about college and professional athletes all the time that faced tough challenges and difficult situations along their journey. If you dive deep into their past, their unique stories of all the hurdles they jumped over and the roadblocks they went around or through, are what ultimately make them who they are today.
These past experiences are what give them the fuel, motivation, and strength to stay on course, separate themselves from the pack, and continue their quest for success. Nothing comes easy and there is a price you have to pay to get to the top.
Purdue's most recent 2023 commit, Ryan Browne, is a quarterback that has been on a long winding road as he pursues his dream of playing college football for a Power 5 program. 
His path and story have been different than most. It took a lot of patience, smart work to develop correctly, travel and being able to adapt to unknown places at a young age, and the belief to always bet on yourself, and do whatever it takes to succeed.
It all started in Michigan, continued in Florida and he is currently in New York. His next stop will be in January in West Lafayette, Indiana when he enrolls early as a Purdue Boilermaker.
Where it all Began
Ryan grew up in Michigan, just north of Detroit, with a father that played football in the NFL for the Oakland Raiders, Miami Dolphins, and the Detroit Lions. Jim Browne was also a 2-sport star at Boston College on a great football team back in the 1980s and an All-American in track and field. After his NFL career, Jim started a business training athletes in speed, performance, and combine training. This is where Ryan's journey began.
As a young kid going to hang out with his dad at the training facility, Ryan was introduced to what sweat, hard work, and discipline were all about. He watched a lot of great future NFL, college, and elite high school athletes over the years train and he jumped right in with them when he could. His dad is an old-school coach that knows what it takes, doesn't accept excuses, pushed athletes to maximize their potential, and gave them the confidence they didn't know they had.
The reason this is important is that it is part of Ryan Browne's foundation. It is why he is a great athlete and why he has the focus and mindset that anything is possible. He was taught that nothing is given to you. You have to earn what you want. This philosophy is why the process hasn't fazed him when faced with a new challenge, and why he will be playing in the Big 10.
Football in Michigan
In youth football, Ryan dominated as a dual-threat quarterback for St. Hugo. He was a scoring machine, running and throwing touchdowns. There was never a question about where he would go to high school. His dad was a star at Brother Rice for Hall-of-Fame head coach, Al Fracassa. He also trained all of the Brother Rice football teams in the offseason once his NFL career was over. The Warriors won 9 State Championships with Fracassa.
As a 9th grader at Brother Rice and with a new coaching staff, Ryan started the first 4 games as a receiver. The team started 0-4 and their starting quarterback got hurt. Ryan finished the last 5 games of the season as the quarterback and they went 5-0.
In his sophomore season, the staff did not give Ryan an opportunity to play quarterback and he ended up starting varsity as a safety. Although this is not where he wanted to play, he did well earning All-Detroit Catholic. The positive from this experience was he learned the responsibilities of the defensive backs in all the coverages and how they prepared to stop opposing offenses. Once the season was over, he continued to train as a quarterback.
At the beginning of the 2020 season in his junior year, we were at the start of the pandemic. All of the college summer camps were canceled and the Governor of Michigan also canceled the high school football season. Ryan's dad knew how important his junior season is with recruiting and started calling friends and old teammates who were scattered across the country.
Within 2 days of the Governor canceling the season, Ryan's dad had 2 high schools in Florida that were interested in him coming down; Venice and Riverview. His dad asked Ryan, "are you willing to leave your friends, family, and school to go play your junior season?" Ryan's answer was yes. From there, they packed up and drove 20+ hours to move him down. The Michigan football season was canceled on a Thursday and Ryan was practicing at his new school in Florida on Wednesday.
2020 Riverview Sarasota High School
Ryan's dad liked Venice more than Riverview but they ended up choosing Riverview. With no notice and time to find a place to rent or buy, they had family within the Riverview school district that took Ryan in while his parents were still in Michigan. The Florida season had already started and he got to practice several days late and he was behind.
Riverview had a senior quarterback returning and Ryan had to get acclimated to his new home, school, teammates, and not to mention learning an entirely new playbook. He got reps at quarterback in every game early on but didn't start. The senior quarterback went down with an injury mid-way through the season and Ryan took over. For the 5-game stretch where Ryan started at quarterback, Riverview went 5-0, including 2 playoff wins in the first two rounds. The senior quarterback returned from his injury for the 3rd playoff game, and the Riverview staff gave him his starting job back. The team lost to Osceola and their season ended with a 9-2 record. Ryan never played in the last playoff game.
2021 Junior Year Offseason
As soon as Ryan's junior season ended, he had 3 options for what he would do for his senior year. The first option was to stay at Riverview even though it ended on a sour note. Not playing in the final playoff game after winning 5 straight games was hard. Standing on the sideline and watching the team go down hurt.
The second option was to go back home to Michigan and Brother Rice. Ryan's dad reached back out to their staff but they could never give him an answer about being the quarterback.
The 3rd option was to reach back out to Venice High School, the team that wanted him the most. After they thought about everything, they went all in to transfer to Venice. This was the place they originally wanted to go to but didn't have the time to find or rent a home quickly enough before their original move down to Florida.
2021 Senior Season at Venice High School
As they looked back on everything, this was absolutely the best decision they made. Coach Peacock and the team accepted him and he had a great spring season and really developed in their program. They had a lot of colleges that came down in the spring and were introduced to Ryan. Ryan also put in a tremendous amount of time working out with his dad and throwing every single day. Anyone that knows Ryan knows he loves to train and not too many are willing to do what he does in an offseason.
In the summer of 2021, Ryan attended 14 college 1-day camps across the country. A lot of these schools were already recruiting and had offers out to quarterbacks in the 2022 class. Some even had commitments. The goal was to throw and work out for them and start to build rapport before his senior year. Unfortunately, they did not have college camps the summer before because of covid and he had no quarterback film from Brother Rice during his sophomore season.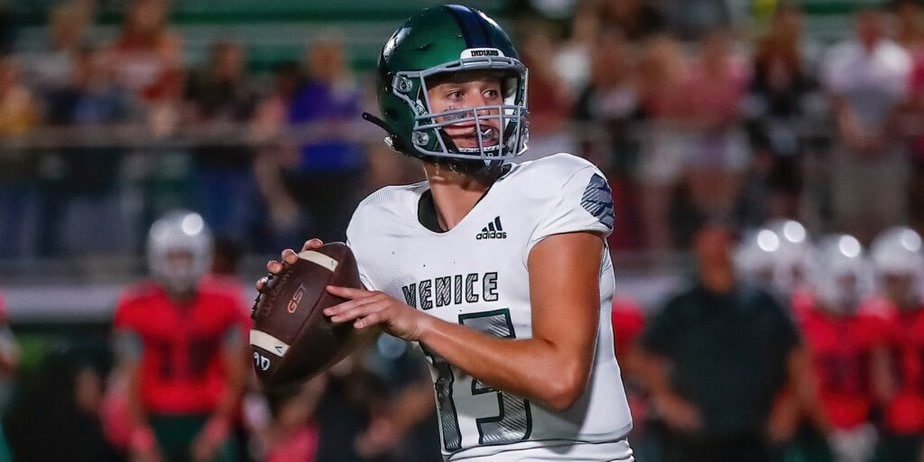 As a senior, this was Ryan's first varsity season where he knew he was going to be the starting quarterback from Day 1. His team was loaded with talent and weapons on both sides of the ball. The staff was outstanding in preparing the team physically, fundamentally, and they were 100% focused on one thing only…and that was winning a State Championship.
From a development standpoint, Coach Peacock, Coach Hunter, and Coach Ryals all worked with Ryan every day to learn pass protections, study film, and scout opponents. They were instrumental in helping Ryan take his game to another level.
Strong Florida Competition & a State Championship
Every game was a big game for Venice and all the opposing teams had Power 5 talent. The competition level was high and Ryan blossomed each week. They only had 1 loss to Cardinal Gibbons 28-24 but it was one of Ryan's best games during the season.
The Indians finished the season strong with a 15-1 overall record and beat Apopka 35-7 in the 8A State Championship game. Ryan was named the MVP of the state finals. He was 18-of-21 for 255 passing yards and 4 touchdowns. He was later named the 8A Florida State Player of the Year.
Once the state championship was over, Western Michigan University offered Ryan a full scholarship and they wanted him to enroll early on January 3. He never had a chance to visit and meet their staff in person before they wanted him to enroll.
They decided to pass on the Western Michigan opportunity, reclassify with the 2023 recruiting class, and go to a Post Graduate Prep School for the 2022 season.
2022 Browne Decides to Reclassify
Why a Post Graduate Prep School and what are the benefits? A prep school is like Grade 13 and is a great option for a number of different reasons. They allow you to get another offseason of development without losing eligibility like a junior college. The development could mean getting bigger, faster, and stronger to be more college ready.
In Ryan's case, he wanted to tweak a few things with his throwing mechanics after receiving feedback from a few colleges, a video review from Tom House, and a private workout with Jeff Christiansen. House and Christiansen both work with a laundry list of NFL quarterbacks and are well-known in the football community.
He also wanted his senior film to matter and have a chance to distribute it to college coaches. He had an outstanding 2021 season but it ended a week before the early signing period. There was no time to show anyone his final tape. Most colleges already had their quarterback commit before the season even started. The prep school route enabled him to have a whole offseason to show that film.
As soon as he decided he was going to a prep school, his trainers from Power 5 Football put together a plan of action on exactly what he needed to focus on this offseason. He already graduated from Venice High School and had nothing but time before June 1st when the college camps start.
The goal was to perfect his throwing motion and continue to train with his dad in speed and combine training. He already had one of the fastest shuttle times in the nation for quarterbacks competing in the Elite 11 and the Rivals.com camps the previous summer.
The other objective was to show a lot of video leading up to June 1, especially his improved throwing motion from the minor tweaks he made.
Listen to the Feedback, Develop a Plan, 1,000's of Reps = Positive Results
In January and February in Michigan, Ryan spent 5-6 hours a day throwing by himself into batting cage nets and stationary targets and implementing the new tweaks he was making with his throwing motion. Through extensive video analysis with the Power 5 training staff, they were able to identify any areas that needed perfecting. His dad always says you need 10,000 reps doing something the correct way before you get comfortable and good at doing it right. Ryan surpassed this pretty quickly with all his free time.
In March and April, he was ready to start showing colleges his progress and started posting workout videos. After each video he posted, he started getting positive feedback from colleges and they said they were really impressed with how he was throwing.
Michigan State's Jay Johnson invited him to their spring game and spent a lot of time with him. Brendan Streeter from Clemson did the same. Toledo offered him in May.
Spring Workout Videos
2022 Summer 1-Day Camps
After 5 months of training, Ryan was ready for the college camps. He camped at Boston College, Kent State, Wake Forest, Michigan State, Penn State, Vanderbilt, Liberty, Florida State, Wisconsin, Ohio State, Notre Dame, Clemson, Kentucky, and Purdue.
Prior to going to the Purdue camp, Ryan told his dad that he didn't want to go because they already had a quarterback commit. His dad told him to get in the car we are going anyway because you never know what will happen. Things change every day and it isn't over until Signing Day.
At the end of the camp, Brian Brohm went up to Ryan and said he did well but there is nothing he can do at this time because they already had a commit. Ryan said he knew but still wanted them to see him throw.
Camp Results
The schools that showed Ryan the most interest after the camps were Florida State, Wisconsin, Boston College, and Kent State. Kent State offered Ryan after their camp in early June. Wisconsin was close to offering prior to Paul Chryst's firing.
The common question Ryan received from at least 10 offensive coordinators at the camps was why don't you have any Power 5 offers. Ryan's response every time is, "those decisions are out of my control and I am just going to keep working and getting better."
Jim Browne's old teammate at Boston College, Jim Turner, is a current coach for the Cincinnati Bengals and has coached for 26 years. He asked Jim if his son robbed a bank or something on why these schools aren't offering.
Milford Academy – Prep School in New York
Ryan chose to attend Milford Academy because their head coach, Bill Chaplick, played with Ryan's dad at Boston College. At first, they didn't realize Coach Chaplick was Milford's head coach. They reached out to Milford and then found out once they were on the phone together.
Milford Academy is a well-known prep school that has produced a lot of Division 1 players over the years. Coach Chaplick has a great program and told Ryan he would be their quarterback and have the keys to their offense. Ryan arrived on campus at Milford in August.
Through the first 6 games of the 2023 football season at Milford, here are Ryan's stats. 132-of-203 passes (65%), 1944 passing yards, 324 yards per game, 18 touchdown passes, and 2 touchdown runs. Their team is 5-1 and Ryan's career record as a starting quarterback is 29-2. Milford has 4 more games left this season.
Career Stats
Ryan Browne's Career Stats
| Team | Year | W | L | Completions | Attempts | % | Yards | TD's | Rushing TD's |
| --- | --- | --- | --- | --- | --- | --- | --- | --- | --- |
| Riverview Sarasota | 2020 | 5 | 0 | 64 | 123 | 52 | 944 | 8 | 2 |
| Venice | 2021 | 15 | 1 | 175 | 290 | 63 | 2,766 | 32 | 11 |
| Milford Academy | 2022 | 5 | 1 | 132 | 203 | 65 | 1,944 | 19 | 2 |
| Career Totals | | 25 | 2 | 372 | 616 | 60.3 | 5,654 | 59 | 15 |
Purdue Offer and Commitment
After Ryan attended Purdue's summer camp, he didn't hear from them until early August. On August 2, Purdue's 2023 quarterback commit, Rickie Collins, decommitted. Exactly 15 minutes after Collins posted his intentions, Brian Brohm, the quarterback coach and offensive coordinator, reached out to Ryan. He mentioned to Ryan that he was the first quarterback he thought of once he heard about Collins. Brohm told him he had the best arm he saw all summer and that he was now one of their top candidates to receive an offer.
Brian Brohm was communicating regularly since August 2 and was impressed with how Ryan has played at Milford Academy early this season. On Tuesday, he told Ryan his brother, Purdue Head Coach Jeff Brohm, wanted to schedule a call for Wednesday. On that call, Jeff Brohm offered Ryan. He told Ryan that Collins was a good fit for the program but Ryan was the best fit for them. Ryan called Brohm back on Thursday and committed. He announced it Friday morning on Twitter.
Why Purdue?
Through this recruiting process, Ryan has been patient and has bet on himself every step of the way. He was patient because he knew he had to get better in some areas and he just needed a little more time. Another offseason of training, zeroing in on these areas, and the ability to showcase everything at Milford Academy was the plan.
He wanted a Power 5 opportunity with a staff that believed in him and that could help develop him the best. Purdue was it. If you look at most of the teams that offered Ryan, they were from teams that had head coaches who were former quarterbacks. Jeff Brohm played 7 years in the NFL and Purdue currently has the second-best passing offense in the Big 10 behind Ohio State.
Browne's Strengths as a Quarterback
As a quarterback, Browne has excellent size at 6'5" 210-pounds and is an outstanding athlete. He has been tested consistently over the last 2 summers with a 4.5 40 Time, 4.0 Shuttle, 6.68 3-Cone, and a 10-foot broad jump.
Browne brings a lot to the table and we are seeing everything shine through this season at Milford. He is a playmaker and uses his athletic ability to weave in and out of the pocket to avoid pressure and extend plays. He is always looking downfield first but has shown that he can break off a big run if he wants.
This season he is averaging 34 pass attempts per game and is completing 65% of his passes. He has worked hard on his accuracy and has proven it in big-time games over the last 2 seasons. He is also averaging just shy of 15 yards per completion this year. If you want explosive plays (15+ yards), Browne can throw it downfield and has the arm strength to stretch the defense.
Outside of his athletic ability and arm, Browne can win over a locker room and is a student of the game. He is a loyal teammate and vocal leader. He was accepted in at Venice and Milford. He has great relationships with his teammates and has bonded with them quickly. He believes in them and they believe in him. This team's chemistry has produced a lot of W's. Give him a dry-erase marker and a game situation, you will be shocked at his knowledge of X's and O's on both sides of the ball. He attributes this to his coaches at Venice and his QB Coach Rick Bouch from Power 5. Browne graduated with a 3.8 overall GPA.
If you check out the 30-minute video interviews he did with the Florida State and Wisconsin media outlets, you can see he is well-spoken, likable, and a quarterback with a lot of knowledge about the game.
Summary
Overall, Ryan Browne has been down a long road to get to West Lafayette. He has taken his game to new levels each season and is just scratching the surface of what he can become. This is a detailed description of who he is, what challenges he has faced, and the accomplishments he has achieved. Purdue and Browne are mutually a great fit and both have a lot more to prove as they continue to build momentum to get to the top.