Michigan has a strong 2023 class of football prospects, and near the top of the list is Dylan Senda from Dearborn Divine Child. After a year and a half of visiting colleges, talking to coaches, and attending camps, Senda has narrowed his list down to 8.
During this time, he has racked up offers from teams in the Big 10, SEC, ACC, Big 12, AAC, and the Mid-American Conference. Senda has prided himself on training consistently, making progress each day, working with an elite staff of coaches, and implementing a nutrition plan that has him in tip-top shape. His discipline to not cut corners, or miss a workout, and embrace the grind has changed the course of his future.
Final 8 Colleges
As a result of his hard work and performance, the 19 Division 1 scholarships he earned are cut down to 8 colleges. In alphabetical order, here are the eight colleges. Cincinnati, Iowa, Miami (Florida), Michigan, Michigan State, Northwestern, Penn State, and West Virginia.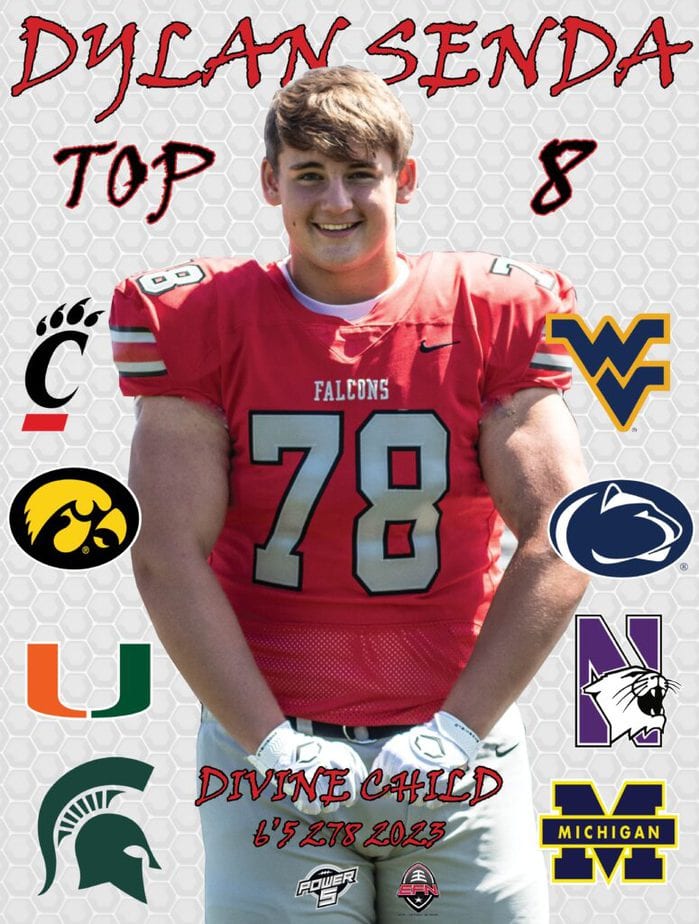 "I am very thankful for all of the 19 colleges that have offered me. It was an honor that they had an interest in me attending their university. It was a hard decision for my parents and me. We invested a lot of time researching each school and traveled all over the country visiting them. We felt we needed to zero in on the ones that were the best fit for me, and I don't want to drag this out a whole lot longer," said Senda.
Why Theses 8
Why were these the eight colleges you chose? "I have built solid relationships with the coaching staff of each school. They all are strong academic universities, specifically with their engineering programs. This is what I want to study. I want to compete at the highest level, and all of these colleges offer that opportunity. I am also confident that each school will develop me on and off the field," said Senda.
Strong Junior Season
As a junior, Senda moved from center to right guard on offense and played defensive end on defense. His season ended last week and he earned All-Detroit Catholic honors.
Offseason Plans
Now that your season is over, what's next? "I have several game-day visits planned before the college season ends. I will attend games at Cincinnati, Iowa, Michigan, Miami, and West Virginia. I was at the Michigan State game this past weekend," said Senda. 
Outside of his college visits, he started training the same weekend his team was eliminated from the playoffs. "I will do speed and agility training 4 days a week and will lift 6 days a week. I will do positional training with Power 5 Football. My goal is to add muscle, get stronger and faster, and eat clean. I am also going to a tutor for 3 hours each week to help me prepare for the SAT Test in May".
Next summer, Senda will take 3 classes in order to graduate early in December 2022. He will enroll in college in January 2023.
Senda Will Enroll Early in January 2023
Senda has a busy schedule this offseason and will have a big decision to make. In the meantime, he is still on a mission to up the intensity of his workouts and he continues to improve each day.
From a recruiting standpoint, he said he wants to learn more about his final 8 schools and build upon the existing relationships.
With another great offseason, look for Senda to separate himself from the pack and move even higher up the charts. In the end, it will be a tough decision for him but he has 8 great options that all provide amazing opportunities.