Webb City High School continued its dominance from years past, finishing the year sporting a 14-1 record and No. 2 ranking in the state of Missouri. The majority of their opponents failed to figure out a way to come on top against the Cardinals, partly because of good coaching and partly because of the sheer raw talent at the school.
The Joplin Eagles were the only team to defeat them, handing the Cardinals a 35-28 loss in just their second game of the season. Webb City did their best to make a comeback attempt in the fourth quarter by scoring two touchdowns but were still one shy of extending the game.
The Cardinals are undoubtedly a top football program in the state of Missouri over the past ten years. The perennial contenders have been recognized as one of the state's top 25 teams in every year of the last decade except 2016. They were also crowned state champions in 2010, 2011, 2012, 2013, 2014, 2017, and 2019, where they pummeled Platte County by a score of 48-0.
Since that 2016 season where the team held a 9-4 record, lost to Harrisonville in the quarterfinals, and failed to crack the state's top 25, the team got back to their roots and quickly turned things around. In just a year's time and kept that production through the end of last season, they would go undefeated and add another state title. Over that three year span, the Cardinals improved their win percentage from 69.2% to an astounding 95.5% by losing just two of their 44 contests.
If the Cardinals have conveyed anything over the years, it's that the team can consistently produce, and at a high level. They have shown few signs of slowing down thus far, and I wouldn't expect them to start anytime in the near future.
Offense
The talent and depth of Webb City's roster enabled the team to score 42.9 points per game, with over 60 points in two of them. At the helm of the team's offense is quarterback Eli Goddard. The 6-1, 193-pound senior sported a 142.4 QB rating to go along with 695 passing yards, 13 touchdowns, and a .639 completion percentage. He will look to build on this performance in his final 2020 season as the Cardinals seek more hardware.
Also returning is perhaps the most impressive player on the team, 6'1 running back Devrin Weathers. Weathers led the team in rushing yards with 1386, in addition to 19 touchdowns. This performance earned him a place on the All-State Offensive 1st Team and All-District #6 in Class 4. The Webb City product has committed to Kansas State. He also pulled in several DI offers including Murray State, Western Illinois, and Northern Iowa.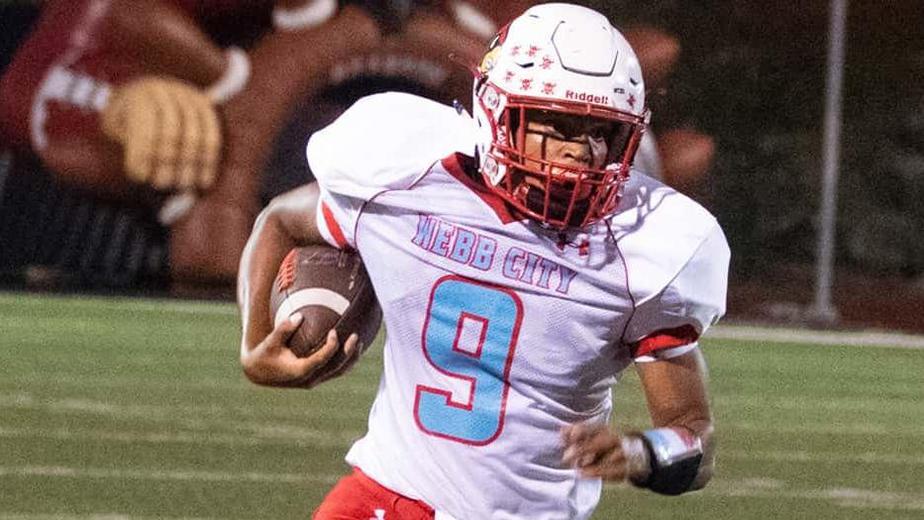 Another difference-maker was Gary Clinton (6'4 220). The tight end was able to accumulate 119 yards on just seven receptions, two of which came in the end zone. His contributions were recognized as he was named First Team All-State Offense and All-District. He also possesses a significant degree of athletic ability. According to Hudl, Clinton owns a 4.66 40 yard dash time, along with a vertical of 31 inches and the ability to bench press and squat 315 and 475 pounds, respectively.
On the offensive line, Braeden Jackson (6'4 240) and Grant Goltra (6'4 270) lead the way upfront. Both players will be key contributors again and have the size to create holes in the run game and protect the quarterback..
As a whole, the Cardinals offense was able to produce 88.6 receiving yards and 315.7 rushing yards per game, along with 91 total TDs.
Defense
The Webb City defense managed to allow only 155 points over the course of their 2019 campaign, holding their opponents to single-digit scoring totals in 9 of their 15 games, including six shutouts.
They will have to replace the production of graduating senior Sergio Perez (5'6 175), who led the team in tackles with 99. However, DB Treghan Parker (5'11 180) will be back next season and he was close behind with 91, including 40 solo tackles, 6 interceptions, and even 1 touchdown on his way to a 1st Team All-State Defense selection.
Another returning player to watch out for is defensive end, Matthew McDaniel. The 6'4-190 pounder was second on the team in sacks per game with 6.5, on top of 45 tackles and 1 safety.
2020 Outlook
There is a reason that Webb City is in contention year after year. They have developed a winning culture that is engrained in the very core of the program and is built to last a long time. The Cardinals are a name that other high schools in the area will not take lightly on their schedule as that contest approaches.