Ever since head coach Jim Hightower took over the St. Thomas More football program in 1986, the Cougars have been the gold standard for Louisiana high school football. Coach Hightower has over 400 total wins as head coach, claimed 21 District Championships, made 10 semi-state appearances and has won 2 state championships with St. Thomas More. He was inducted into the Louisiana Sports Hall of Fame in 2016.
The most recent state championship came last year, during the 2019 season, where the Cougars posted an 11-2 record and beat DeLaSalle in the finals by a score of 58 to 10. Even before Jim Hightower arrived at St. Thomas More, he was the head coach at Catholic-Pointe Coupee, where he also won a state championship in 1978.
Perhaps an even more staggering fact is Coach Hightower has never had a losing season at St. Thomas More. With Coach Hightower's experience and a talented returning roster, the St. Thomas More Cougars are eyeing another state championship for the 2020 season.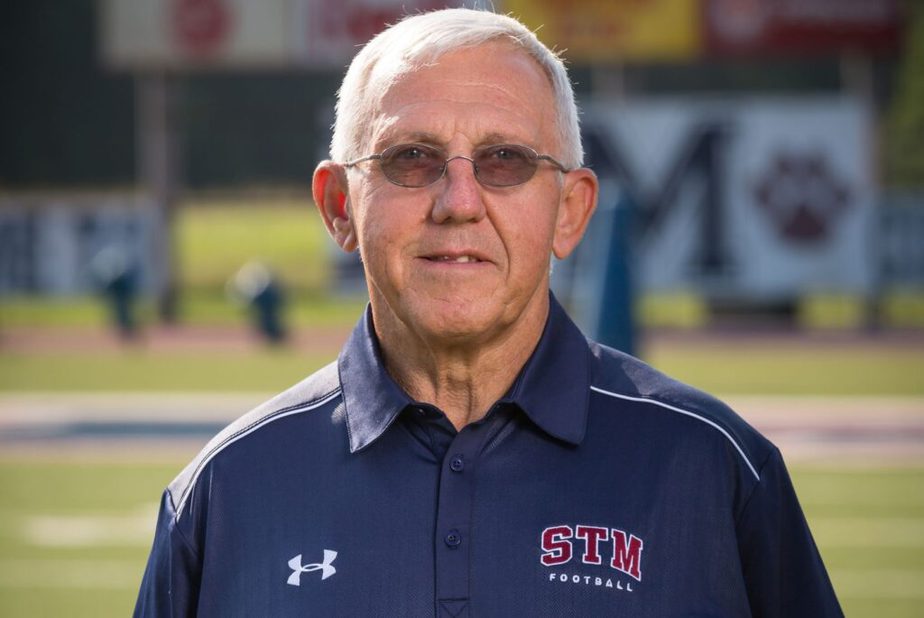 Offense
During the 2019 season the Cougars had one of the most explosive offenses in the country, averaging 43.8 points per game. Even though they are losing a rotating starting quarterback in Caleb Holstein to Louisiana Tech, and tight end Luke Howard (6'3" 225-pounds), there are still plenty of returning offensive weapons for Coach Hightower to utilize.
The Cougars have one of the best high school quarterbacks in the country in junior Walker Howard (6'1" 180-pounds). Howard has a strong arm and has the speed to break off a big gain on the ground. Howard currently holds offers from Alabama, Arizona State, Arkansas, and Baylor, but has already committed to LSU following his high school career. 
Alongside Howard in the backfield is senior running back Tobin Thevenot (5'7" 165-pounds). Thevenot is a hard runner who is very slippery to tackle and has the ability to take a screen all the way to the house. Jordan Spurlock (5'7 190-pounds) is another key running back for the Cougars. He had a nice junior season. The other running back to keep an eye on is 2023 prospect, Jon Michael Breaux (6'2 226-pounds). Breaux has size, speed, and runs with power. Colleges will be knocking on his door soon.
Howard will also have plenty of ammunition on the outside, starting with 1st team All-State senior wide receiver Jack Bech (6'2" 210-pounds). Bech is one of the most accomplished receivers in the state, holding offers from Arizona, Arkansas State, Boston College, and Dartmouth. Bech is currently committed to play for Vanderbilt at the collegiate level after his senior year. 
In the passing game, Carter Domingiue (6'3 190-pounds) is another threat on the outside. The 2-sport star is tall, athletic, and will make the tough catches in traffic. The Cougars also have another capable wide receiver in senior Carter Arceneaux (5'11" 165-pounds), who is committed to play for Louisiana College. 
Anchoring the offensive line is senior offensive guard Josh Billedeaux (6'1" 300-pounds), who has a big frame and is agile enough to stop defensive linemen from sacking the quarterback. With these seasoned offensive players returning, don't be surprised if the Cougars surpass 43 points per game in 2020. Ashton Helaire is a big 2024 offensive lineman that should see action early
Defense
Along with a fiery offense, St. Thomas More has been rather impressive on the defensive side of the ball, only giving up 17 points per game during the 2019 season.
The strength of the Cougar's defense lies within their secondary, led by senior cornerback Dominic Zepherin (5' 11" 170-pounds). Zepherin was on the Louisiana 4A All-State and All-District Team last year and holds offers from Air Force, Army, Cornell, Dartmouth, and Fordham.
Along with Zepherin in the defensive backfield is senior free safety Joshua Stevenson (6'0" 195-pounds). Stevenson is the definition of an athlete, earning All-State 2nd Team Defensive Back honors and All-District Team Kick Returner. Stevenson is currently committed to play baseball at LSU after high school. Nicholas Beckwith (6'2 163-pounds) is a young talent at safety that will emerge this season.
Along with a proficient secondary is a solid linebacking core led by All-State senior middle linebacker Bryce Boullion (6'1" 220-pounds). Bouillon is a strong middle linebacker with the capability of closing in on running backs and wide receivers quickly, and holds offers from Louisiana College and Sterling College.
The Cougars also have another talented linebacker in senior Jean-Jacques Hunter (6'2" 185-pounds), who complements Bouillon nicely on the field.
Finally, St. Thomas More's defensive line will be led by senior defensive tackle Gregory Alleman (6'3" 245-pounds). Alleman does a good job clogging up running lanes for opposing running backs and forcing offensive linemen into the backfield.
2020 Outlook
This St. Thomas More football team has a strong chance to find themselves back in the state championship game once again. They need to get past a tough regular season schedule featuring teams like Westgate (9-4), and Catholic Baton Rouge who went 10-0 during the regular season and were state runner-ups last season.
If the Cougars can get past their regular season with their dynamic offense, gritty defense, and experienced head coach, they could be well on their way to back-to-back state championships.