Every year, we see a new crop of high school football prospects that all have the same goals and aspirations of playing in front of 90,000 fans on a Saturday afternoon in the fall. The reality is only a small percentage of prospects in each recruiting class will get that opportunity. At the end of each high school season, as we watch the video, we get to see who emerged and the cream will always rise to the top. Your film doesn't lie.
Postseason honors, hype, politics, street agents lying and misleading families, and connections people have, all get thrown out the window. There are 2 reasons why you get scholarship offers and 2 reasons only.
First and most importantly, it is because of what you do on Friday nights and how it is presented on your video. Are you a standout on the field? Will your video "wow" a college coach when they watch it? Are you a hands-down early offer guy or will they need to see more of you in a summer camp? Will the most inexperienced person in the crowd ask who you are in the 1st quarter of the game because you stand out that much?
In addition, you get an offer because of your physical measurables based on the projected position you are expected to play at the next level. These must match up with what college coaches are looking for. They want size, speed, strength, and overall athleticism. Are you an explosive athlete that can compete against and hold your own against the other top talent in the country? If you are not, you won't get that offer.
Division 1 college coaches get the pick of the litter. They can be as picky as they want and if you don't check these boxes, you won't get an offer. It is that simple.
Stephens has a breakout sophomore season
One player from the 2024 recruiting class that had an outstanding sophomore season and who does check all the boxes is Desman Stephens from Clarkston. The 6'2 corner picked off 5 passes, had 8 pass breakups, and 73 total tackles. This is particularly impressive because opposing quarterbacks rarely threw his way all season. 
Desman talked about his strengths on the field and how he progressed from the beginning of the season to the end. "I'm great in coverage (zone and press) and run support. I have a good football IQ and I enjoy being aggressive and physical. As the season went on, I became more of a leader on the defense and the team. I was more patient dissecting plays in zone coverage."
Towards the end of the season, Stephens was also playing wide receiver on offense. He caught 4 passes for 113 yards and scored 1 touchdown. He had 5 carries for 48 yards and another touchdown. "With the ball in my hands, I can do great things utilizing my explosiveness, vision, and relentless mindset," said Stephens.
Right now, colleges may not be familiar with Stephens, but before next season starts he will be a player that has several Division 1 offers as he enters his junior season. You can also bet that he will be a go-to guy for the Wolves on both sides of the ball.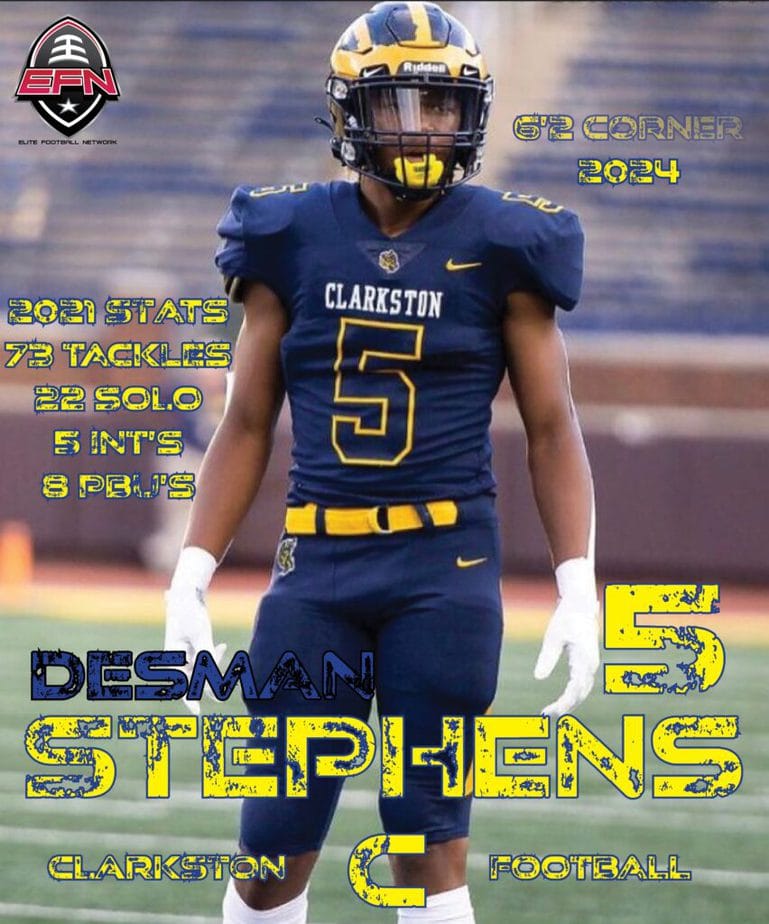 2-Sport Star in 2024 Class
Now that his season is over, Desman will be a starting guard on Clarkston's powerhouse basketball team. He plays the point and 2-guard positions. He has played AAU basketball growing up and playing both sports has helped him excel on the court and the gridiron. "As a basketball player, I have excellent size and speed compared to smaller guards. I use my toughness and agility to my advantage," said Stephens.
We have seen over the years that some of the elite basketball and football players have excelled in college when they played both sports in high school. "Football helps me in basketball. It allows me to be comfortable with contact at the rim, toughness on the court, and handling the ball in pressure situations. Basketball helps me with my conditioning, quickness, footwork, reaction speed, and body position," said Stephens.
When we look to college and his future, Desman gave his thoughts on what he wants to pursue. "I want to play football in college. I've always liked basketball but I love football way more. I feel I would be better at football at the next level," said Stephens.
It's in the Genes
As college coaches evaluate prospects, they love to know when a family member has a background in the same sport. In Desman's case, his dad was a defensive back for Western Michigan from 2004-2008. He has been a person who has helped him develop on and off the field. "He is always getting my mindset right. He tells me to go 110% in whatever I'm doing and to be relentless until the clock runs out. He has been doing this since I was a toddler and continues to motivate me daily. My dad trains me with position-specific drills (DB/ WR and returner), strength and conditioning, speed and agility," said Stephens.
As the 2024 class starts to get evaluated, colleges will know Desman falls into that small percentage of players that will play on a big stage, and he is one that checks all the boxes. Stay tuned with us to follow his progress through the recruiting process. Big things are coming for him.