Over the past 5 years, DeLaSalle football out of New Orleans has come so close, yet so far, from the school's first state championship. Heading into his ninth season as head coach for DeLaSalle's football team, head coach Ryan Manale is no stranger to success. 
Coach Manale worked as an assistant coach at Archbishop Rummel for 13 years, before taking the head coaching job at DeLaSalle. Coach Manale has led the Cavaliers to semi-state appearances in 2016, 2017, 2018, and 2019. He has also led the school to two state championship appearances in 2017 and 2019, along with leading the team to their first undefeated regular season in 2016.
This past season, DeLaSalle had a 9-3 overall record but unfortunately lost in the Division II state finals game to St. Thomas More by a score of 10 to 58. Coach Manale is looking to finally get this DeLaSalle team over the state finals hump this year, and with the returning roster for the 2020 season, there's a strong possibility that this could be the year that DeLaSalle wins their first state championship.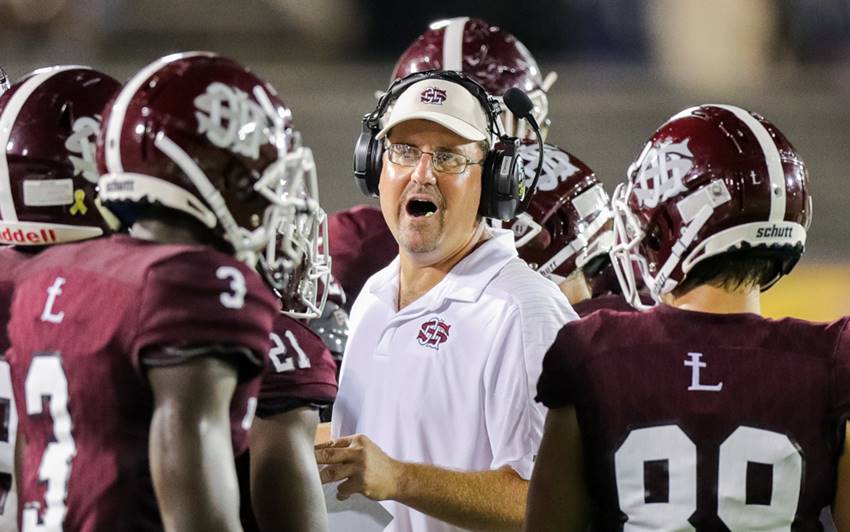 Offense
On the offensive side of the ball, the Cavaliers averaged 29 points per game during the 2019 season. And even though they lost star receiver Richon Porter and offensive tackle Noah Devlin (Southeastern Louisiana University), there will be plenty of firepower left for the 2020 season.
Starting at quarterback, junior Cole Milford (5'11" 165-pounds) will look to make a big splash this upcoming season. Last year Milford started for DeLaSalle as a sophomore and can throw deep, accurate passes, and has the speed to scramble out of the pocket and run for a first down.
Alongside Milford in the backfield is star senior running back Montrell Johnson (5'10" 185-pounds). Johnson has tremendous speed and field instincts and holds offers from Arkansas State, Arizona, Colorado, Duke, and Kansas. Montrell Johnson will be playing for the Arizona Wildcats at the next level after his senior year. 
DeLaSalle fans shouldn't worry however, sophomore running back Patrick Martin (5'10" 190-pounds) will be taking over once Johnson departs. Martin got a fair amount of playing time on varsity as a freshman and was able to showcase his size and strength to opposing defenses. Byron Phillips (5'9 208-pounds) gives this team a ton of depth in the backfield.
Milford will also have weapons on the perimeter in senior wide receiver Nick Tate (6'0" 160-pounds). Tate has soft hands to make tough catches in traffic and is a phenomenal blocker. Nixon Bernard (5'10 160-pounds) is another solid receiver for the Cavaliers.
Finally, on the offensive line, the Cavaliers probably have one of the largest guards in the state in senior John Martin (6'4" 345-pounds). With Martin's size and strength, he has received interest from colleges such as Houston, Kansas State, Louisiana Monroe, and has received offers from Nicholls State and South Alabama. Justin Howard (6'2 270-pounds) is a promising young offensive guard in the 2023 recruiting class that will be a key player up front.
Don't be surprised if in 2020 this DeLaSalle offense averages 30+ points per game.
Defense
The Cavaliers have been just as impressive on the defensive side of the ball, holding opponents to roughly 16 points per game during their 2019 season. It's safe to say the strength of this defense will be their front seven that's loaded with talent.
On the defensive line, senior defensive end Ja'Marian Peterson (6'3" 230-pounds) looks to end his high school career with a bang. Peterson has received offers from Arkansas State, Boston College, Colorado, and FAU. Peterson has elected to play for Arizona alongside running back Montrell Johnson.
Another star on the defensive line is senior defensive tackle Dwane Tillis Jr. (5'11" 225-pounds). Tillis has good size and strength for an interior lineman and has committed to play for Millsaps College. Trey Hand (6'0 275-pounds) will also be a big contributor inside the box this season inside.
This DeLaSalle defense also has a solid linebacker core, led by senior outside linebacker Shamar Keelen (6'1" 210-pounds), and junior middle linebacker Jude Milford (5'11" 200-pounds). Both Keelen and Milford do a good job of closing down running lanes against opposing offenses quickly and will likely give the offensive coordinator's headaches throughout the season. Keidrick Richardson (5'11 210-pounds) is a freshman that will put his name on the map this fall.
The only downside of this defense is their secondary will be rather young. With the loss of both safeties in Joseph Husband and Jalen Ned, younger defensive backs will have to step up this year.
That's where junior cornerback De'anta LeBranch (5'7" 165-pounds) comes in. LeBranch has made several interceptions as a sophomore on varsity and will look to lead this inexperienced defensive secondary in a big way. Rodrek Williams (5'9 160-pounds) role will increase and he will be an impact player.
If the Cavalier's front seven lives up to expectations, and their secondary can find it's rhythm before the playoffs, look for this defense to post several shutouts.
2020 Outlook
This DeLaSalle team has all the tools to make a deep playoff run in 2020. The Cavaliers will have to get past tough regular-season opponents in Easton (9-3), Amite (10-4), and Lakeshore (13-1). 
If this team can do that and make a run with these talented players, Coach Manale could lead the Cavaliers to their first state championship in their school's history.